Whether you're new to the workforce or you've been burning the midnight oil longer than you can remember, finding a new job is rarely a smooth and stress-free experience. But don't fret, it's not all bad. After all, one of the things you're often encouraged to do in order to find your next dream job is to go to an interview-party of sorts where talking about your strengths or your hobbies over a cocktail (or two) is practically required. But, as fun as these networking events can seem, it's important to remember that these events are about work and not play. Read on for seven things you should
keep in mind at your next networking event
to help you stay on track for landing that dream job.
1. Do Your Homework:
This may be a 'work thing,' but we advise you to treat it like you would any first coffee date with someone you don't know that well. Basically, scour the internet for any information you can find on the event and know what you're getting yourself into before you get there.
Do a little digging on the company or people who are sponsoring the event, what their company does and who their representatives may be that are attending the event. Find one tidbit or anecdote you may have in common – like a shared alma mater or hometown – and use it as an 'in' to start up a conversation upon check-in. If everything runs smoothly, they'll probably introduce you to other people at the event, making your objective for the event easier and more enjoyable.
2. Have a Goal:
Like most things in life, success comes more easily when you have a goal in mind. Don't expect to go to one cocktail hour networking event and walk away with three job offers – that's just not realistic, and you're ultimately setting yourself up for disappointment. Instead, give yourself an attainable objective for the event – like making three new contacts or getting one promising job lead – and spend your time networking with that objective in mind. Not only will it relieve some of the stress and make the whole evening seem less overwhelming but, setting a realistic and manageable goal will make it a successful experience when all's said and done.
3. Dress to Impress:
Confidence is key at one of these events, and the best way to feel confident (or at the very least fake it) is by wearing something that makes you feel comfortable in your own skin. Trust us, now isn't the time to try out the latest trend or convince yourself that you really can wear high heels without tripping on everything (and nothing). Of course, we're not talking 'jeans and T-shirt' comfortable. Your attire should still be considered professional and work appropriate, but also be suitable for the profession in which you're networking. For example, a pantsuit is a great choice for a corporate environment or a law firm, but it may seem a bit overdressed for a more "business casual" profession such as something in entertainment. For a more 'business casual but still professional' look, go for something that shows off your keen style sense and fun personality like
this chic navy dress
with some cute (and functional) flats.
4. Come Prepared: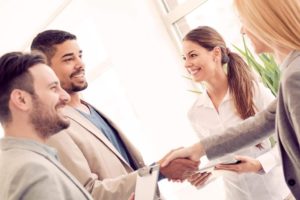 The whole point of a networking event is to do just that – network – and an essential part of networking is exchanging information. After all, you can't very well be a part of a network of new professionals if no one knows how to reach you when that perfect job opportunity arises. A convenient and easy way to share your contact information at one of these events is to hand out business cards complete with your name, title, email and any other contact information you wish to include like phone number and/or social media channels. Don't feel shy about carrying several of these with you at all times because you never when opportunity will arise. Bonus points for storing them inside a stylish card case instead of letting them get all crumpled and stained at the bottom of your purse.
5. Bring Your Conversation Game:
You don't have to meet every single person at the event officially, but you should try hard to make a sincere connection with at least a couple. Put your conversation skills to work and do your best to make a great first impression. Want a pro-tip?
Work on your handshake
. Nobody likes a weak handshake and everyone remembers a firm one. Make a point to learn (and remember) the name of the person you're speaking with, do your best to work their name into the conversation once or twice to help yourself remember and let them know that you're interested and invested in what they have to say. But most importantly, don't monopolize the conversation. Make sure to ask them questions about themselves and their profession before jumping into your own personal five-year plan.
6. Take Notes:
When it comes to keeping track of who said what at a networking event, it's best to keep a few notes. If you have a free moment from mingling, do your best to find a quiet spot away from the crowd and jot down a few quick reminders about the conversations you had. You could even write these down on the back of each person's business card, reminding yourself who the person is, what you spoke about and what follow-up information you'd like to request from them. The whole point of a networking event is to stay in touch with the people you meet, so taking notes in the moment will make it easier in the future when you want to reach out.
7. Follow Up:
Remember when you were a kid and your mom made you sit down and write a 'thank you' card for every gift you ever received? Well, put that training to the test. Make it a priority to send a timely follow-up to each of the people you exchanged information with – especially those who seemed eager to help further your career or give you feedback. A quick email of "Hi, it was nice meeting you" might be all that you need. Make sure to include your name and a little bit of the conversation you shared to jog their memory. End the email with your intention – whether it's to work with them in the future or grab a coffee soon – and remind them of the best way to reach you. In no time, you'll have an equally cordial and brief response from them sometime soon – thus starting a correspondence. Success!
No doubt networking can be intimidating, but with enough practice, it could be one of the most valuable tools available to you. Don't get in your own way when it comes to climbing the ladder of success. Put these pro-tips to work at your next event and watch how quickly you will soar. After all, the sky is the limit – and there's no way you're coming down from that high.